Written By: Gloria Tsang, RD
Last Updated on: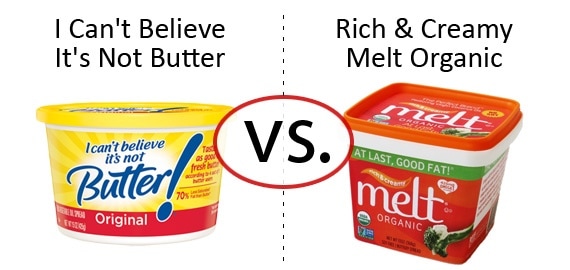 The trans fat controversy has scared a lot of people away from using margarine (aka buttery spread). However, many margarine products no longer use partially hydrolyzed oil. So, how do you make a decision when choosing the right kind of vegetable-oil-based margarine?
Nutrition Faceoff: Margarine (Buttery Spread)
| | | |
| --- | --- | --- |
| | I Can't Believe It's Not Butter – Original | Rich & Creamy Melt Organic |
| Serving Size | 1 Tbsp | 1 Tbsp |
| Calories | 70 kcal | 80 kcal |
| Fat | 8 g | 9 g |
| Saturated Fat | 2 g | 3.5 g |
| Omega-ALA | 350 mg | 425 mg |
| Sodium | 90 mg | 85 mg |
| Ingredients | Vegetable oil blend (soybean oil, palm oil, palm kernel oil, canola oil), water, sweet cream buttermilk, salt, mono and diglycerides, soy lecithin, natural and artificial flavor (milk), (potassium sorbate, calcium disodium EDTA) used to protect quality, citric acid, Vitamin A palmitate, beta carotene (color). | Expeller-pressed organic oil blend (virgin coconut oil, palm fruit oil, canola oil, high-oleic sunflower oil, flaxseed oil), water, organic ghee (clarified butter), sea salt, natural flavor, tocopherols, sunflower lecithin, annatto-turmeric. |
Nutrition Faceoff: Buttery Spread – Dietitian's Take
Both spreads are based on a combination of solid oil and liquid oil. Both shave at least half of the artery-clogging saturated fat from a serving of butter (7 g per serving). Because margarine is plant based, it also shaves off some of the cholesterol found in butter and saves 20 to 30 calories per tablespoon. I Can't Believe It's Not Butter is slightly lower in fat and calories, while Melt Organic is slightly lower in sodium. The main difference between these two products is really the oil blend and the ingredients. We are pleasantly surprised to see flaxseed oil on Melt Organic's ingredient list;  flaxseed oil contributes to the higher level of omega-3 alpha-linolenic acid (ALA) content.
Our Pick: Melt Organic
With a shorter ingredient list and more natural ingredients, we choose Melt Organic as the winner of this faceoff. Being organic also means that it's not GMO, so Melt Organic's organic oil blend also contributes to the win.
Of course, you can always change it up a bit in terms of what to spread on your breakfast toast. Try natural nut and seed butters such as peanut butter, sunflower seed butter, or pumpkin seed butter for some natural protein power!
Gloria Tsang is the author of 6 books and the founder of HealthCastle.com, the largest online nutrition network run by registered dietitians. Her work has appeared in major national publications, and she is a regularly featured nutrition expert for media outlets across the country. The Huffington Post named her one of its Top 20 Nutrition Experts on Twitter. Gloria's articles have appeared on various media such as Reuters, NBC & ABC affiliates, The Chicago Sun-Times, Reader's Digest Canada, iVillage and USA Today.