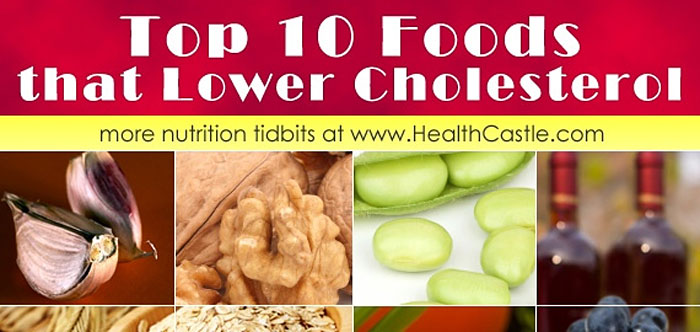 Just about every super food claims to help lower cholesterol. So which one actually lives up to its claim? Our Heart Smart Nutrition section is one of the more popular sections on HealthCastle.com.  Whether you are a regular reader or not, can you spot the 10 foods in this poster?
Top 10 Foods to Lower Cholesterol
Answer can be found below:
 Answers (alphabetical order)
Beans and lentils – for their fiber, soluble fiber in particular.
Dark chocolate – for its flavonoid.
Edamame – for its isoflavones and fiber.
Extra-virgin olive oil – for its mono-unsaturated fatty acids.
Garlic – for its allicin.
Oat – for its soluble fiber.
Pinot Noir Wine – for its resveratrol and other flavonoids.
Psyllium – for its soluble fiber.
Salmon – for its omega-3 fatty acid, DHA in particular.
Walnuts – for its ALA omega-3 and mono-unsaturated fatty acids.
Similar Posts: