Super Bowl 2013: Cajun and Creole Snacks for the New Orleans Super Bowl

This year's Super Bowl takes place at the Superdome in New Orleans. No matter where you'll be when you watch the big game, you can capture a little bit of the essence of the Big Easy by serving Cajun and Creole-themed foods for your Super Bowl viewing party. Some of the classics from this region can be a little heavy on fat, calories, and sodium – so we've provided healthy tweaks that capture the essence of the originals without that post-game regret. Use these variations to modify your favorite recipes for each of these Louisiana classics.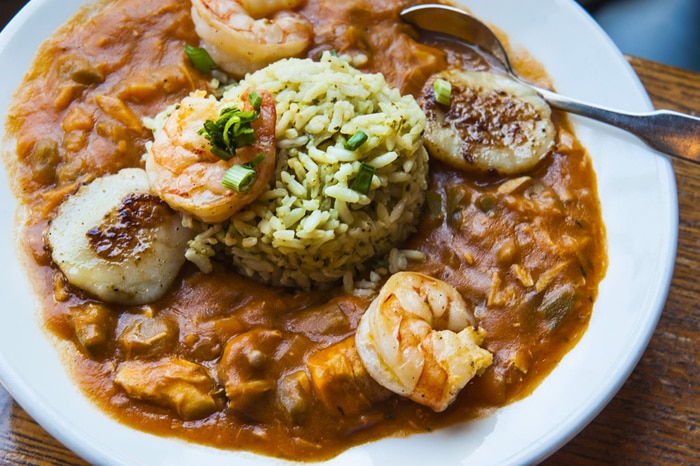 Healthy Tweaks for New Orleans Classic Foods for Your Super Bowl Party
Po'boy
The classic New Orleans po'boy (poor boy) sandwich is (a) huge, and (b) stacked with deep-fried shrimp, mayo, and pickles. Not a lot of redeeming qualities there! For a lighter, snack-worthy version, start by trimming the portion size. Rather than half a French baguette per sandwich (as is the custom), cut the loaf into quarters or even eighths. Keep the mayo serving small and use shrimp dipped in egg white and tossed in breadcrumbs, then pan-seared rather than deep-fried.
Gumbo
Gumbo is a thick and hearty stew that can include any combination of seafood, chicken, and sausage, along with vegetables, all served over rice. To keep your gumbo on the lighter side, stick with seafood versions. And although it's a break from tradition, you can add some whole grains by serving over brown rice instead of white.
Jambalaya
Jambalaya is another dish where replacing white rice with brown and a leaner meat for the sausage makes a big difference. Jambalaya is a rice-based dish that features various veggies and meats. Instead of sausage, try chicken breast. Pile in lots of veggies (especially the New Orleans favorites onions, bell peppers, and celery) and serve in small bowls.
Muffuletta Sandwich
The Muffuletta sandwich was created by Italian immigrants in New Orleans' French Quarter – and it's a heavy-duty sandwich packed with calories and fat in its layers of various meats (salami, pepperoni, ham, and others) and provolone cheese. But the key flavor in this sandwich is its olive salad, a flavor-packed topping. For a snack-sized version, try serving the olive salad on thin rounds of broiled or toasted baguette, bruschetta style. Make the olive salad a week ahead to let the flavors mix.
Red Beans and Rice
The basics of this dish are nutritious – rice (use brown rice for whole grains), beans, and those favorite New Orleans veggies – celery, bell pepper, and onions. But add in the traditional sausage and ham and it becomes another heavy dish. Use turkey sausage instead of the traditional meats for a lighter, more heart-healthy version.
The Bottom Line
Louisiana has a rich food culture with some classic dishes worth serving up for your New Orleans Super Bowl party. Use these recipe tweaks to serve up healthy snack versions of some favorite New Orleans foods.
Tell Us: What's on your Super Bowl Party menu?

Alumni: University of Victoria – Christina Newberry is a writer and editor whose work has appeared in national and local magazines and newspapers. With a Bachelor's degree in English and Anthropology from the University of Victoria and a Journalism Certificate from Langara College, Christina brings keen curiosity and the love of a good story to her work with HealthCastle.com.
Christina is a passionate traveler and urban gardener with an interest in vegetarian eating and making good, tasty food from scratch. Sharing lessons learned from her own experiences, Christina writes about lifestyle topics for HealthCastle, with a focus on eating well at home and on the road.