Heading to the beach? Bringing your kids to a picnic party? Instead of hot dogs and fried chicken, consider the following easy, healthy snacks that will fuel your body in the hot summer months without expanding your waistline.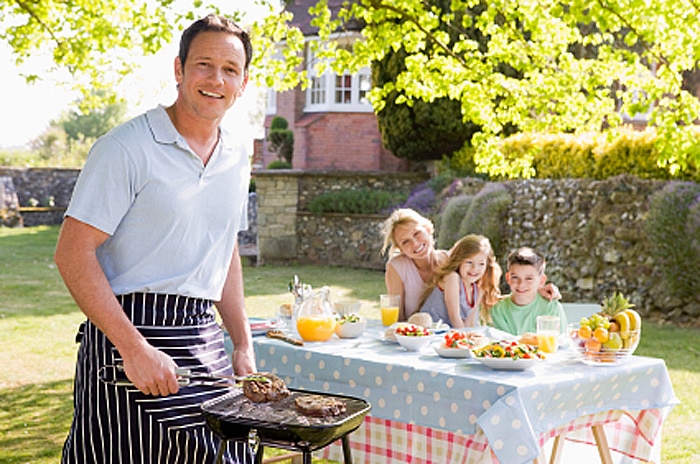 Top Snacks for the Summer
Summer BerriesBerries are by far my favorite summer fruits! They are loaded with Vitamin C, folate, fiber and phytonutrients like anthocyanines. Indeed, fresh berries are some of the most powerful disease-fighting foods available, as they top the ORAC score chart (a method of measuring antioxidant activity). Berries are easy to prepare: just wash and rinse – no need to peel at all! If you would like to add some zest while enjoying them outdoors, bring along a cup of yogurt and use it as a dip.
Haagen-Dazs's Raspberry Sorbet & Vanilla Yogurt BarIf you are planning to bring along a cooler with freezer packs, then you should consider bringing this refreshing frozen treat. This fat-free Haagen-Dazs frozen bar combines creamy non-fat vanilla frozen yogurt and a non-fat raspberry sorbet shell, making it a delicious summer treat with only 100 calories per bar.
Home-made Trail Mix with Nuts and whole-grain CerealsNuts are one of the best plant sources of protein for a great snack. They are rich in fiber, phytonutrients and antioxidants like Vitamin E and selenium. These tasty snacks are also high in plant sterols and fat – but mostly beneficial monounsaturated and omega 3 fats. Tossing nuts with whole grain breakfast cereals is a perfect way to create heart-healthy trail mix. If possible, choose almonds, hazelnuts, peanuts, pecans, pine nuts, pistachios and walnuts, as they are recognized by the FDA for their role in heart disease prevention.
Kashi's TLC Crunchy Granola BarIf making your own trail mix sounds like too much work, you might appreciate Kashi TLC Crunchy Bars. Our favorite is Roasted Almond Crunch. Providing 4 g of fiber and 6 g of protein, these trans-fat-free bars are baked with roasted almonds and Kashi's signature 7 whole grains blend. How convenient!
PopcornPopcorn is a perfect snack to munch on! A standard three-cup serving of air-popped popcorn contains just 93 calories and less than 1.5 grams of fat. This low-calorie snack is even considered whole grain, so it has some valuable antioxidants not found in fruits and vegetables. It also contains B Vitamins, Vitamin E, magnesium and fiber. If you prefer microwave popcorn, choose the plain varieties and avoid the "buttery" or "caramel" flavors that may be loaded with calories, sugar, and trans fat.
Disclaimer: HealthCastle.com did not, and will not, receive monetary compensation for this review.
Gloria Tsang is the author of 5 books and the founder of HealthCastle.com, the largest online nutrition network run by registered dietitians. Her work has appeared in major national publications, and she is a regularly featured nutrition expert for media outlets across the country. The Huffington Post named her one of its Top 20 Nutrition Experts on Twitter. Gloria's articles have appeared on various media such as Reuters, NBC & ABC affiliates, The Chicago Sun-Times, Reader's Digest Canada, iVillage and USA Today.