Let's face it: Everyone loves dessert. What we don't love about many popular desserts is that they are heavy on the white flour, sugar, and cream. As summer is upon us, here are some lighter dessert ideas that celebrate eating with color as inspired by various cuisines from around the world.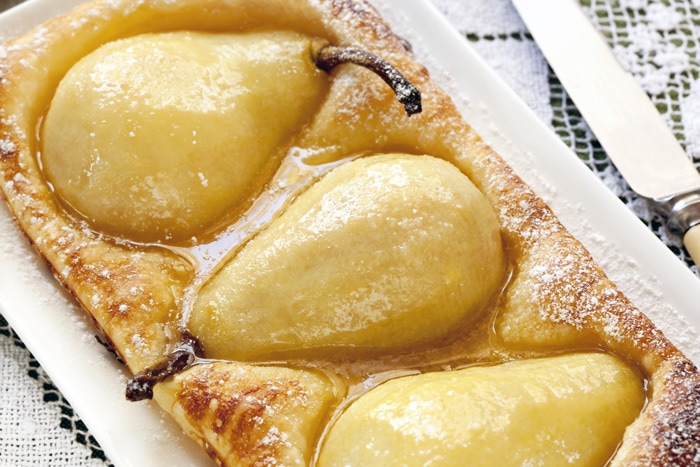 Around the World with Desserts
Veggies for dessert.We tend to think only of fruits when it comes to dessert ingredients, but there is no reason not to use vegetables. For example, the Indian carrot hawla is made of finely grated carrots that are cooked slowly in milk with raisins, nuts (almonds, pistachios or cashews), and spices (cardamom or saffron) until soft. Another example is a drink popular among  Indonesians in the hot weather: Make a refreshing beverage by finely grating cucumber and pineapple and serving all the resulting bits and juices over ice cubes. (Provide both a straw for sipping and a spoon to eat up all the yummy bits!)
Roast it, don't poach it.Poached pears are very French, but the roasted version is equally tasty and requires less stove-watching. Peel and core the pears and cut them into wedges. For the cooking liquid, you can use juice (apple, orange, or lemon) or wine, sweeten with a bit of honey or brown sugar, and add a bit of butter. Toss the cut pears in this mixture and roast in the oven at 350F for 20 minutes. Jazz it up with spices like cinnamon, star anise, cloves, or nutmeg.
Grill then chillInstead of using grilled fruit as a topping for ice cream, make it the star of your dessert. Grill up some sliced papaya and pineapple, then let cool. Skip the whipped cream and toss in a tangy vinaigrette (lime or any other citrus comes to mind) or herb-infused syrup (think mint, basil) instead. Even simple, good-quality honey works well.
Make it sushiTraditionally Japanese, sushi is becoming much more mainstream in North America, so why not create a dessert version? Dessert sushi can easily be made from rice cooked in milk (or a non-dairy choice such as almond, soy, or rice milk). For filling, you can use fruit (pick those with stronger flavors, such as ripe melons, bananas, or ripe berries), sweet bean paste (available in Asian grocery stores), or sweetened egg omelet. Instead of using nori (seaweed), roll the finished product in matcha, toasted dried coconut flakes, cocoa powder, chopped nuts, dark chocolate shavings, or sesame seeds before cutting into slices.
Dessert stir-fryChinese stir-fry is an easy way of cooking up a no-fuss main entree, but it can also work in a dessert: Christine Cushing, host of Christine Cushing Live on Food Network Canada created a recipe that uses orange segments sauteed quickly with plum wine, brown sugar, cinnamon, ginger, and star anise for an interesting twist on dessert.
The Bottom Line
While we love fruits and veggies just as they are, sometimes we need a little variety in the ways we enjoy them. Take inspiration from other cuisines to provide a satisfying grand finale to your meal without overdoing the calories.

Sofia believes in bringing back fun and pleasure into everyday eating. She loves cooking, and is constantly experimenting with ingredients, creating recipes and trying them out on family and friends. Her latest interest lies in finding realistic and practical ways of environmentally-friendly food/eating habits.