Will A New MyPlate Icon from USDA Change Your Eating Habits?

This morning, USDA unveiled a new icon – MyPlate – to replace the previous Food Pyramid. I say, Hallelujah! It's about time!  I love the simple design, with contemporary color scheme.  I don't think I need to elaborate it further – it's simply self-explanatory – and that should be what it's supposed to be!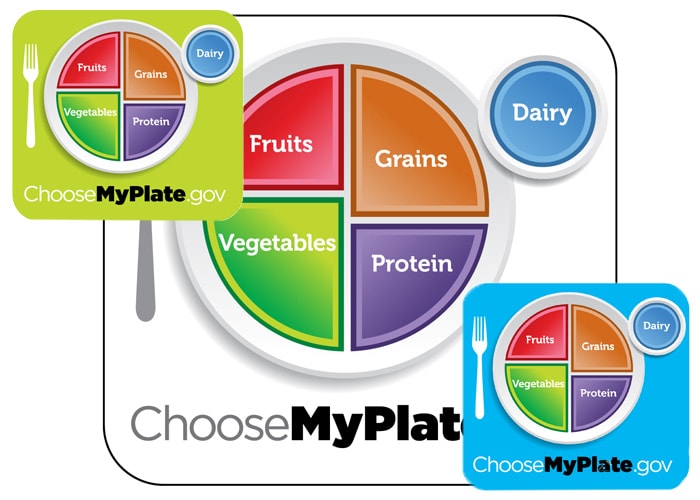 Since 1992, hardly anyone knew what to do with the confusing Food Pyramid and what it represented.  The original Pyramid didn't distinguish the healthy whole grains from the refined grains. Pasta, rice, baguette, cheerios, crackers, and some bread were all lumped in a group in the bottom of the Pyramid.  Then, there were some weird symbols, yellow dots and white triangles, that supposedly represented fats and sugar, located at the top of the Pyramid. I'm happy to know that the Food Pyramid is now R.I.P.
USDA Is Not the First
USDA is not the first organization that uses a plate icon as a food guide.  Notably, UK has their EatWell plate icon for a few years.
The above 2-D EatWell plate is indeed an update version.  I actually love their first 3-D pie-chart version that was used in the 90s: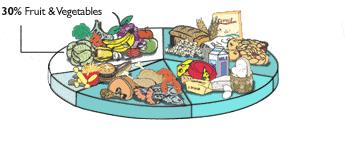 In my old days writing about my dad and his cancer journey, I often recommended materials put out by the American Institute for Cancer Research.  They also introduced their own The New American Plate years ago.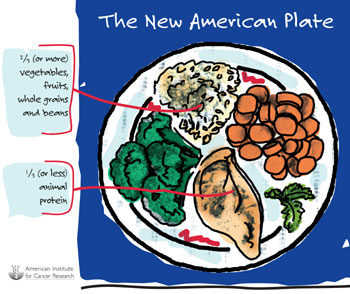 NYU Nutrition Professor Marion Nestle reported that other healthcare organizations, like the American Diabetics Association and the Physicians' Committee for Responsible Medicine, also have their own plate icons to promote healthy eating.
So Will This New Plate Change People's Eating Habits?
Maybe not.  The plate idea is not a new concept anyway. Having said that, this MyPlate icon is a step to the right direction.  It may not change the adults, but it will for sure change the young minds.  Healthy eating is a regular topic in grade schools, so at least we're rest assured that our kids are finally taught the right way of eating well.

Alumni: University of British Columbia – Gloria Tsang is the author of 6 books and the founder of HealthCastle.com, the largest online nutrition network run by registered dietitians. Her work has appeared in major national publications, and she is a regularly featured nutrition expert for media outlets across the country. The Huffington Post named her one of its Top 20 Nutrition Experts on Twitter. Gloria's articles have appeared on various media such as Reuters, NBC & ABC affiliates, The Chicago Sun-Times, Reader's Digest Canada, iVillage and USA Today.