Summertime brings cool desserts that appeal to kids! Instead of popsicles and ice cream bars, why not try making a healthy dessert with bananas?
Make Your Own Kid-Friendly Dessert with Fruit and Chocolate
A week ago I received my grocery delivery with a bundle of eight bananas. After a week, I still have three left, and they are starting to ripen pretty quickly in these hot temperatures. I normally would probably use these bananas in baking, but really, I don't even want to turn on my oven! This no-cook dessert solution popped up when I saw a bag of unopened organic chocolate in my pantry.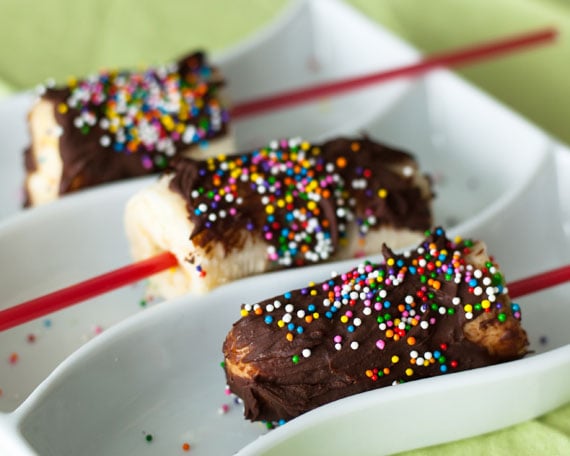 Healthy Banana Sticks with Chocolate
Ingredients
2

bananas, large

½

cup

semi-sweet chocolate

1

tbsp

rainbow sprinkles

6

wooden skewers
Instructions
Melt chocolate over low-heat steam.

Cut up each banana into three small chunks. Smaller bananas may be cut up into two chunks.

Put sticks into each banana chunk and dip banana into melted chocolate. You may also spread chocolate over the banana chunks. I prefer spreading, as I like to control how much chocolate goes on each banana.

Place chocolate-covered banana chunks on a baking sheet lined with parchment paper. Decorate with sprinkles.

Refrigerate the entire baking sheet for two hours. For faster results, place it into the freezer.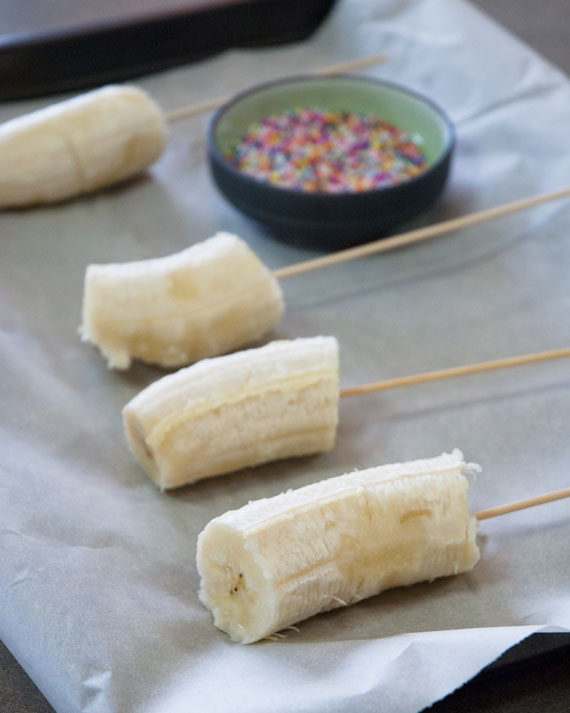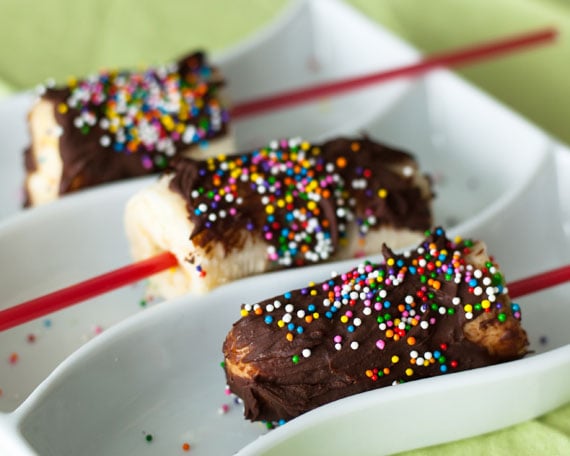 Nothing beats a dessert covered with chocolate. Kids don't need to know that they are healthy! Your kids will have fun making these with you and love to eat their own creations. Also, you don't need to stick to bananas, the following also work well on a a stick:
Grapes
Melon balls
Whole strawberries