Health Canada Allergen Labelling Enforces Plain Language Warnings

If you or someone in your family suffers from food allergies, your grocery shopping process just got a little easier. As of August 4, 2012 new food labelling regulations came into effect in Canada that require manufacturers of packaged foods to identify potential allergens that used to be hidden in ingredient lists using generic terms (like "natural flavour") or confusing jargon (like "hydrolyzed plant protein").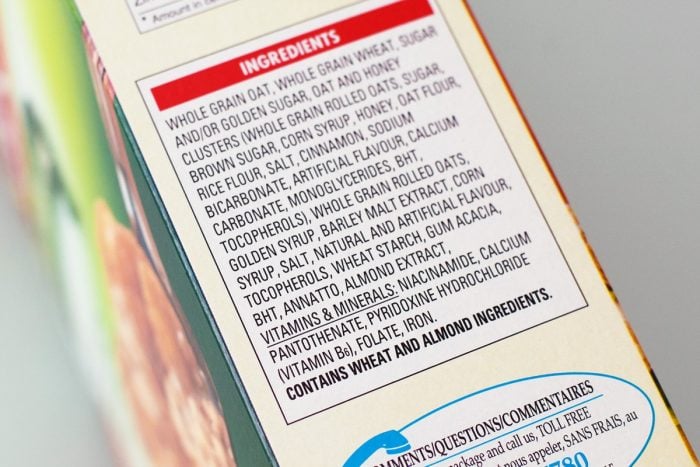 Allergen Labelling in Canada
Health Canada's Q&A on the new regulations shows that the following allergens must now be identified on labels:
tree nuts (almonds, Brazil nuts, cashews, hazelnuts, macadamia nuts, pecans, pine nuts, pistachios, walnuts)
peanuts
sesame seeds
wheat and triticale
eggs
milk
soybeans
crustaceans (using the common name of the crustacean)
shellfish (using the common name of the shellfish)
fish (using the common name of the fish)
mustard seeds
gluten protein, modified gluten protein, or gluten protein fractions from barley, oats, rye, triticale or wheat (or a hybridized strain of any of these cereals)
sulphites
If any of these ingredients are present in a food product, they need to be listed in plain language in the ingredient list, or a statement needs to be added to the label saying, for example, "contains soy" instead of soy protein isolate, or "contains milk" instead of casein.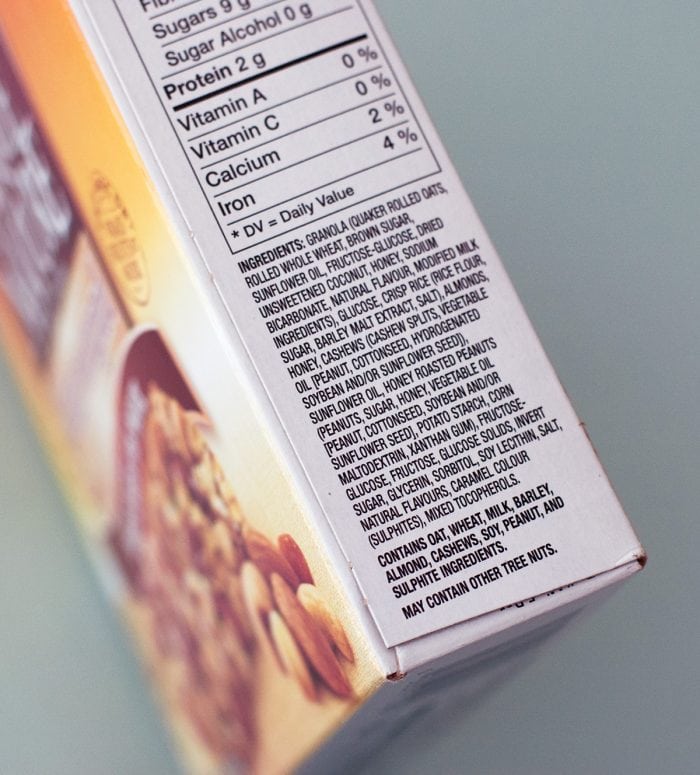 Take the above product label as an example. Instead of going thru the long list of ingredients, we can now easily identify allergens highlighted. Who would have thought this trail mix bar also contains milk, soy, and sulphites?
Exceptions Under This New Labelling Change
There are a couple of important exceptions to know about. First, the new rules only apply to pre-packaged food. So, for example, if you buy a packaged item at your supermarket deli that was made at the store, it's not covered by these new rules. Likewise, if you buy a sandwich from a vending machine and that sandwich was made on-site in a commissary or cafeteria, the rules don't apply. But perhaps the most important thing to keep in mind is that the new regulations only apply to each food's actual listed ingredients. They do not require manufacturers to add any new warnings about allergens when there is potential of them being present in the food because they are made in a facility that uses the allergens in other products. For instance, some oat products may be processed in a facility which processes wheat too. In this case under the new regulation, "contains wheat ingredients" will NOT be required to be listed.
One other caution: Beer labels will not have the gluten warning added. Why? Because all beer contains gluten, unless is specifically labelled as being gluten-free.
Tell us: So, what do you think? Will these new rules help you choose products that work for you and your family?

Alumni: University of British Columbia – Gloria Tsang is the author of 6 books and the founder of HealthCastle.com, the largest online nutrition network run by registered dietitians. Her work has appeared in major national publications, and she is a regularly featured nutrition expert for media outlets across the country. The Huffington Post named her one of its Top 20 Nutrition Experts on Twitter. Gloria's articles have appeared on various media such as Reuters, NBC & ABC affiliates, The Chicago Sun-Times, Reader's Digest Canada, iVillage and USA Today.