Written By: Gloria Tsang, RD
Last Updated on:
Chances are, you're already planning your holiday dinner. A trip to the local grocery store, though, may leave you confused than well-prepared. Have you noticed the many varieties of turkey and ham now available? Here, Diane Morgan, author of The Christmas Table, gives us a lowdown on the different kinds of holiday meat you'll find at your local store.
Turkey 101
Standard Turkey
These birds are mass-produced and conventionally raised. They are reasonably-priced and are available in any chain grocery stores.
Self-Basting Turkey
These birds have been enhanced with some fat, as well as some natural and artificial flavorings. Morgan recommends against brining a self-basting turkey, as it has already been injected with a salt solution.
Free-Range Turkey
These birds are raised in spacious, open environments. They are sometimes organic too. These birds are usually more flavorful and moist than conventionally-raised turkeys.
Kosher Turkey
If observant Jewish guests are on your list, this is the bird to go for. These turkeys have been slaughtered and cleaned under strict rabbinical supervision. Similar to the self-basting turkeys, Morgan recommends you don't brine kosher turkeys, as they have been salted in the koshering process.
Ham 101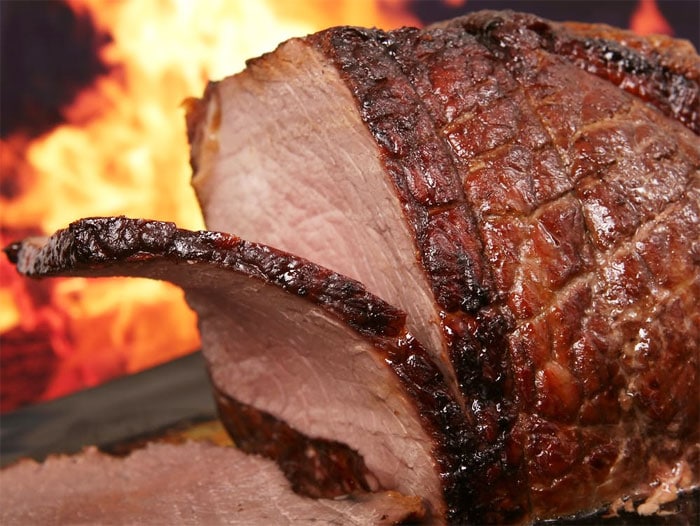 Fresh Ham
These hams are unprocessed and uncured. They need to be cooked.
Country Ham
These hams are salted and dry-cured (sometimes smoked too). They must be soaked and simmered extensively before baking.
City Ham
These hams are fully cooked and have been wet-cured (immersing the ham in a wet brine), or injected-cured (injecting the meat with a brine solution). These hams are ready to eat and only need to be heated through.
Extra Notes
Some hams are labeled "ham and water products," "ham with natural juices," or "ham – water added." Try to choose hams that are labeled just "ham" and contain no added water.
Gloria Tsang is the author of 6 books and the founder of HealthCastle.com, the largest online nutrition network run by registered dietitians. Her work has appeared in major national publications, and she is a regularly featured nutrition expert for media outlets across the country. The Huffington Post named her one of its Top 20 Nutrition Experts on Twitter. Gloria's articles have appeared on various media such as Reuters, NBC & ABC affiliates, The Chicago Sun-Times, Reader's Digest Canada, iVillage and USA Today.