No More Refrigerated Cookie Dough

For some people, home baking means making things from scratch, but for others it may mean picking up boxed mixes or refrigerated dough at the grocery store and baking them. We have looked at muffin mixes, pancake mixes, and brownie mixes in our previous entries. This time we decided to tackle refrigerated cookie doughs. Does the convenient-looking dough wrapped in a cute package promise much cost and time savings when compared to our homemade version?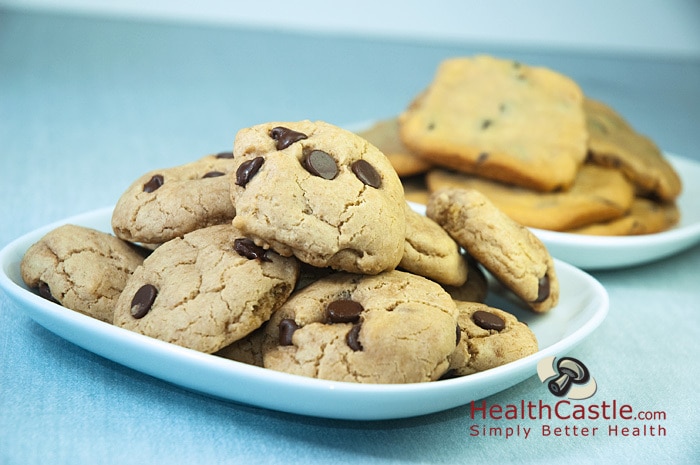 Pillsbury Chocolate Chip Refrigerated Dough
Homemade Chocolate Chip Cookie
Here's what we found when we compared cookies made from a refrigerated dough to our homemade version:
Pillsbury
Chocolate Chip
Refrigerated Dough

Homemade
Chocolate Chip
Cookie

Serving Size:

1 cookie (26 g)
1 cookie (24 g)

Calories:

120 kcal
112 kcal

Protein:

1 g
1.4 g

Fat:

6 g
6 g

Trans Fat:

1 g
0 g

Carbohydrate:

16 g
13.8 g

Fiber:

0 g
0.9 g

Sodium:

80 mg
46 mg

Preparation time:

Prep and preheating oven: 10 minutes
Baking: 10 minutes
Total: 20 minutes
Prep and preheating oven: 20 minutes
Baking: 10 minutes
Total: 30 minutes

Price per serving:

$0.22
$0.14

Ingredients:

Enriched wheat flour, sugar, chocolate flavoured chips (sugar, hydrogenated palm kernel oil, cocoa, dextrose, soy lecithin), soybean and cottonseed oil shortening (contains citric acid), water, hydrogenated soybean oil, blackstrap molasses, wheat protein isolate (wheat gluten, lactic acid, sulphites), dried whole eggs (contain sodium silicoaluminate), salt, baking soda, sodium aluminum phosphate, artificial flavor.
eggs, sugar, brown sugar, vegetable oil, vanilla extract, all purpose flour, baking powder, baking soda, salt, semisweet chocolate
How Did the Two Stack Up?
First of all, it took more work to prepare the refrigerated dough than we had originally imagined. Instead of simply unwrapping and slicing the dough, as we expected, the instructions said we actually had to drop the entire tube of dough into a bowl, then scoop and shape each cookie. The resulting prep and cooking time was only 10 minutes less than our homemade version. We were also pleasantly surprised to discover that the homemade cookies were half the cost of the ready-to-bake ones.
Without a doubt, we preferred the homemade version over the refrigerated version. The cookies that were made from the ready-to-bake dough were excessively sugary and the "chocolate chips" tasted really fake. In comparison, our homemade version had an incredibly rich chocolate taste and just the right texture. Although both the refrigerated and homemade versions contain the same amount of fat, it is the type of fat that separates the two. While there is 1 gram of trans fat in each cookie from the Pillsbury dough (thanks to the hydrogenated fats and shortening), there is no trans fat and much lower amounts of saturated fat in our homemade cookies, because we used a recipe that called for liquid vegetable oil only. In addition, we were able to increase the fiber content without altering the mouthfeel of the cookies by using a mixture of 40% whole wheat flour and 60% white flour. This is as healthy as an indulgence gets!
The Bottom Line
If you aren't saving much time, effort, or money with a refrigerated cookie dough, why would you even bother using it? Try this chocolate chip cookie recipe instead and avoid all the trans fats and additives!
Our Chocolate Chip Cookie Recipe
Adapted from Levana Kirschenbaum's recipe, as found in Levana's Table: Kosher Cooking for Everyone
Makes about 25 cookies.
Ingredients:
1 egg
1/4 cup sugar
1/2 cup brown sugar, packed
105 mL vegetable oil
1/2 tablespoon vanilla extract
3/4 cup all purpose flour
1/2 cup whole wheat flour
3/8 teaspoon baking powder
3/8 teaspoon baking soda
1/4 teaspoon salt
3/4 cups semisweet chocolate chips
Steps:
Preheat the oven to 375 ºF.
Cream the egg and sugars in a food processor or with an electric mixer until light and fluffy.
Add the oil and vanilla, and mix in thoroughly.
Add the flour, baking powder, baking soda and salt, and pulse (or mix at low speed) until just combined.
Fold in the chips by hand.
Drop the cookies in heaping teaspoonfuls onto a cookie sheet lined with parchment paper, 1 inch apart.(This dough also refrigerates well.)
Bake 10 minutes. The cookies will firm up as they cool, so do not be tempted to bake them longer or they will harden. Bake only one tray at a time. Store at room temperature in tin boxes. Separate each layer of cookies with foil or wax paper so they don't stick together.

Alumni: University of British Columbia – Owennie is a registered dietitian with a soft spot for chocolate and coffee. She is a believer in balance and moderation, and is committed to keeping healthy eating enjoyable and fun. Owennie received her dietetics training in Vancouver, and is a member of Dietitians of Canada and the College of Dietitians of British Columbia. She has experience in a wide variety of settings, such as clinical nutrition, long-term care and outpatient counseling. Owennie has also worked for a community nutrition hotline and participated regularly as a guest radio host, where she enjoyed sharing her passion and knowledge about food and nutrition with people.