Written By: Sofia Layarda, RD
Last Updated on:
Whipped cream on a nutrition website? Don't be surprised; dietitians enjoy whipped cream on our desserts once in a while, too! Rather than using a pre-made store version, we decided to whip up our own batch. If you buy a pre-whipped topping, chances are the product is stabilized using a bunch of food additives. And, if you happen to buy an engineered "cream-like" product that does not even use cream, the product will likely contain some partially hydrogenated vegetable oil, which leads to, you guessed it, trans fats.
Store Bought Cool Whip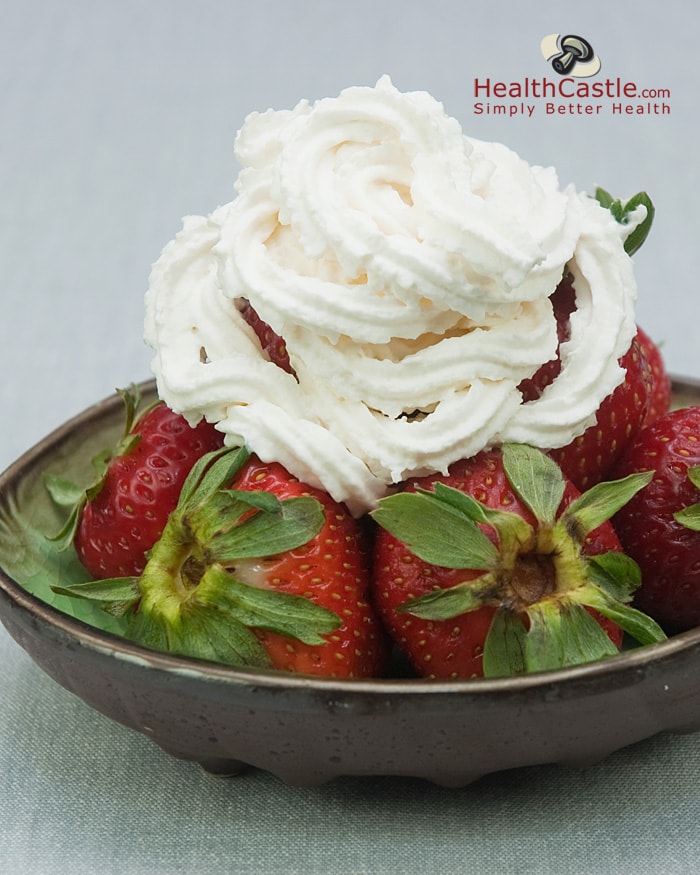 Homemade Whipped Cream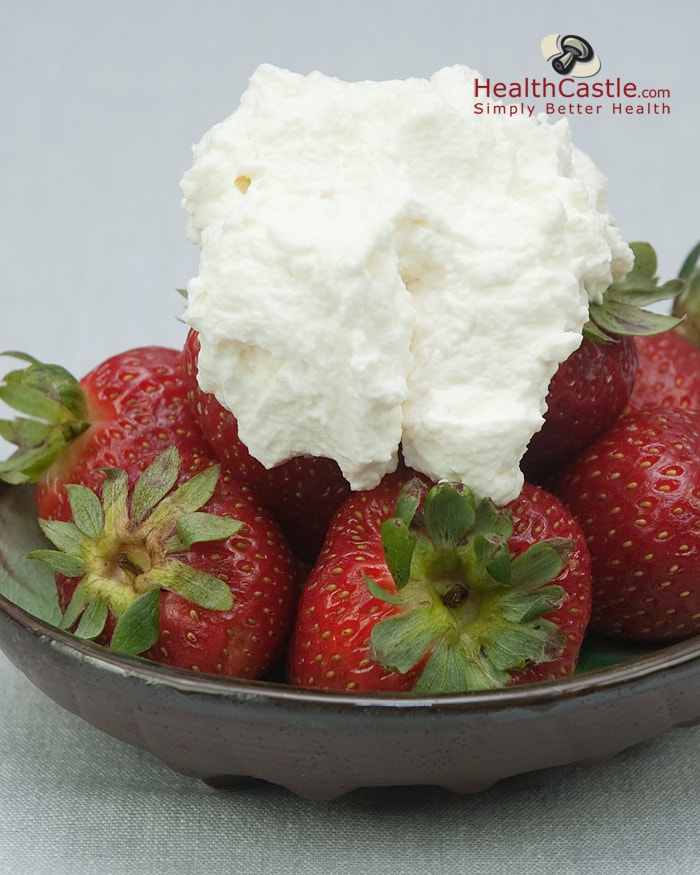 Check out the following table for comparison:
Store Bought 
Cool Whip

Homemade
Whipped Cream

Serving Size:

3 tbsp
3 tbsp

Calories:

25 kcal
30 kcal

Protein:

0 g
0.1 g

Fat:

2 g
3 g

Trans Fat:

n/a
but made with partially hydrogenated oil
0 g

Carbohydrate:

2 g
1 g

Preparation time:

n/a
5 minutes of whipping with electric mixer

Price per serving:

$0.75
$0.26

Ingredients:

Water, glucose-fructose, 22% hydrogenated coconut and palm kernel oils, artificial flavor, sodium caseinate, mono- and diglycerides, sodium stearoyl-2-lactylate, polysorbate 60, carrageenan, color, nitrous oxide (pressure dispensing agent)
Whipping cream, vanilla extract, sugar
How Did the Two Stack Up?
As you can see, there is not a significant difference calorie-wise between a pre-made whipped topping and one you whip up from scratch. However, the pre-made version costs three times as much as real whipped cream per serving! In addition, the pre-made version comes with a bunch of food additives that act as stabilizers, as well as high-fructose corn syrup and partially hydrogenated oil. And notice the sneaky wording of partially hydrogenated oil as "22% hydrogenated." The pre-made whipped topping did not stand up well during the photo shoot either. Compared to real whipped cream, it lost volume and became runny very quickly. And taste-wise, once you put the two toppings side by side, there is no mistaking the "cream-like" topping for the real thing.
The Bottom Line
Why pay three times as much for an over-engineered product that is made with water, high-fructose corn syrup and a bunch of food additives? Banish mysterious chemicals and trans fats from the festivities! This holiday season, whip up a bit of real cream and use it sparingly in special desserts.
Our Homemade Recipe
Ingredients:
1 cup heavy cream
1 teaspoon vanilla extract
1 tablespoon superfine sugar (castor sugar)
Steps:
In a large bowl, whip cream until stiff peaks are just about to form. Beat in vanilla and sugar until peaks form. Make sure not to over-beat, or cream will become lumpy and butter-like.

Sofia believes in bringing back fun and pleasure into everyday eating. She loves cooking, and is constantly experimenting with ingredients, creating recipes and trying them out on family and friends. Her latest interest lies in finding realistic and practical ways of environmentally-friendly food/eating habits.