As Asian Heritage Month, May is a great time to try out some new Asian food. And since this month also features Cinco de Mayo, a day that celebrates Mexican heritage, we decided to feature tips for healthy ethnic food from both Asian and Mexican cultures.
Best Choices for Mexican and Asian Food
Hard taco or burrito?
A hard taco with ground beef, cheese, tomatoes, lettuce, and reduced-fat sour cream has about 200 calories and 12 grams of fat. A burrito, on the other hand, does not have a deep-fried shell, so theoretically it should contain fewer calories. However, a burrito with the same ingredients plus beans and sauce has more than 400 calories and 15 grams of fat. The difference is mainly because the burrito is so much larger. In fact, some fast-food Mexican chains advertise half-pound burritos!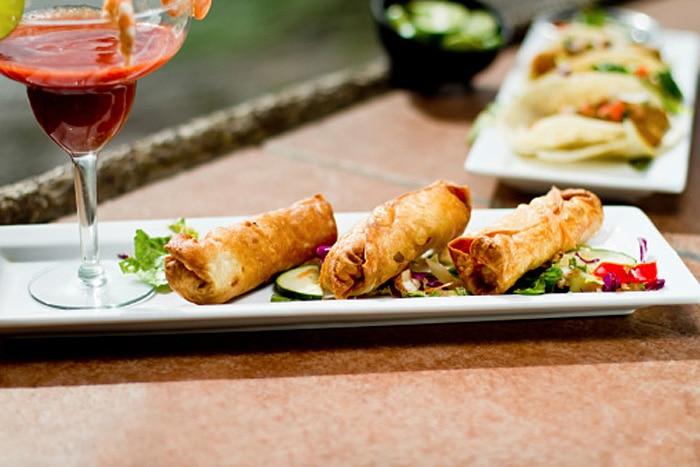 Egg roll or salad roll?
Egg rolls are small, deep-fried rolls that contain vegetables and meat or shrimp. Salad rolls, sometimes called cold spring rolls or fresh spring rolls, also have meat or shrimp, and are wrapped up with cold vermicelli noodles. Spring rolls are generally quite a bit larger than egg rolls, but because of the frying, egg rolls are much higher in calories and fat. A chicken egg roll has 170 calories and 8 grams of fat, while a spring roll has just 60 calories and 1 gram of fat.
Sweet and sour pork or stir fry?
Sweet and sour meat dishes clock in at around 400 calories with up to 23 grams of fat. At around 245 calories and 7 grams of fat, a stir fry (with meat) is a much lighter option that also contains more healthy vegetables.
Tuna sushi roll or shrimp tempura roll?
Sushi rolls usually include rice and seafood and/or vegetables wrapped in seaweed. The calories and fat vary quite a bit depending on what kind of filling is used. A spicy tuna sushi roll has about 140 calories and 2 grams of fat, while a shrimp tempura (battered and deep fried) roll contains 200 calories and 10 grams of fat.
Gordita or chalupa?
Gorditas and chalupas are similar Mexican items that both contain a meat filling and some combination of vegetables and sauces, wrapped in a shell that is quite a bit thicker than the usual tortilla. The main difference is that chalupas have deep-fried shells. This difference means that while a chicken gordita has 280 calories and 11 grams of fat, a similar chalupa has 350 calories and 18 grams of fat.
The Bottom Line
Once you've chosen a healthy main dish, pair it with a sensible side to create a nutritionally balanced ethnic meal. In Asian cuisine, steamed rice is always a lighter choice than fried rice, while for Mexican food salsa is a much healthier side than guacamole. Then dig in and enjoy a healthy ethic meal that celebrates the unique culture and culinary traditions of Mexico or Asia.
Gloria Tsang is the author of 5 books and the founder of HealthCastle.com, the largest online nutrition network run by registered dietitians. Her work has appeared in major national publications, and she is a regularly featured nutrition expert for media outlets across the country. The Huffington Post named her one of its Top 20 Nutrition Experts on Twitter. Gloria's articles have appeared on various media such as Reuters, NBC & ABC affiliates, The Chicago Sun-Times, Reader's Digest Canada, iVillage and USA Today.