Easy One-Pot Stir-fry Teriyaki Tofu in 20 Minutes
In midweek and a busy schedule, a simple, yet kids-pleasing flavorful dinner is the perfect solution. When it comes to kids-pleasing, Asian flavor is a hit in most families. A savory sauce encompassing sweetness and spiciness is everyone's favorite. However, most store-bought bottled sauces have too much sodium; besides you may not want to get a whole bottle just to cook one meal.
Have you ever wondered why so many flavorful Asian sauces add sugar in their recipes? Aside from the obvious sweetness, sugar serves extra functions beyond mere flavor. When heated, especially when protein is present, sugar caramelizes and undergoes a browning process called a Maillard reaction. That helps to brown tofu or meat, resulting with a seared, flavorful crust.
For an everyday dinner, I always prepare at least 3 vegetables from the rainbow of colors for an extra boost of phytonutrients and antioxidants. A quick tip on cooking different vegetables all together: cut them into similar sizes. This will ensure even cooking of all vegetables at the same time and prevent over- or under-cooking some vegetables.
If you'd like to check out the grocery items needed for the sauce, check out this Teriyaki Sauce recipe post.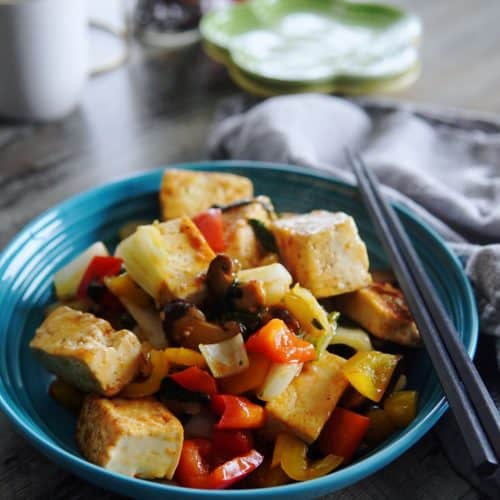 Easy One-Pot Stirfry Teriyaki Tofu in 20 Minutes
Make a teriyaki dish in less than 20 minutes. Perfect for weekdays. In this recipe I choose plant-based, but you can easily substitute cubed tofu with chicken pieces or sliced pork. You can even pack them for school or work lunches; they reheat very well.
Ingredients
2

tbsp

cold water

1

tbsp

soy sauce

choose low-sodium version if needed

1

tbsp

brown sugar

1/2

tbsp

cornstarch

1

tsp

chili-garlic sauce

1/2

box

medium-firm tofu

~220 g, squeezed out water & cut into 8 – 10 cubes

3

bundles

bokchoy

cut into bite size

1/2

red bell pepper

cut into bite size

1/2

yellow bell pepper

cut into bite size

2-3

shiitake mushroom

cut into bite size

1

tsp

ginger

minced
Instructions
In a measuring cup, whisk together the first 5 ingredients. Set aside.

Heat a large pan or pot over medium high. Add a teaspoon of cooking oil, then add tofu. Cook until they are lightly golden, approximately 2 minutes per side. Remove from heat and set aside.

In the same pan, turn heat to high, add 1 tsp of cooking oil, add all vegetables and ginger into the pan. Stir fry vegetables for 2 to 3 minutes.

Add tofu back to the pan along with well-stirred sauce. Constantly stir fry and mix all ingredients. Once sauce turns translucent and starts to bubble, turn off the heat. Serve immediately over rice or noodles.
Notes
Each serving provides:
191 kcal | 13.3 g protein | 17.5 g total carb | 4.4 g fibre | 8.3 g sugar | 9 g total fat
Adapted and modified from Claire Tansey's Teriyaki Tofu with Bok Choy published in her cookbook Dinner, Uncomplicated: Fixing a Delicious Meal Every Night of the Week. 
Disclaimer: This post is sponsored by the dietitians at the Canadian Sugar Institute. All opinions are my own.

Alumni: University of British Columbia – Gloria Tsang is the author of 6 books and the founder of HealthCastle.com, the largest online nutrition network run by registered dietitians. Her work has appeared in major national publications, and she is a regularly featured nutrition expert for media outlets across the country. The Huffington Post named her one of its Top 20 Nutrition Experts on Twitter. Gloria's articles have appeared on various media such as Reuters, NBC & ABC affiliates, The Chicago Sun-Times, Reader's Digest Canada, iVillage and USA Today.