Written By: Gloria Tsang, RD
Last Updated on: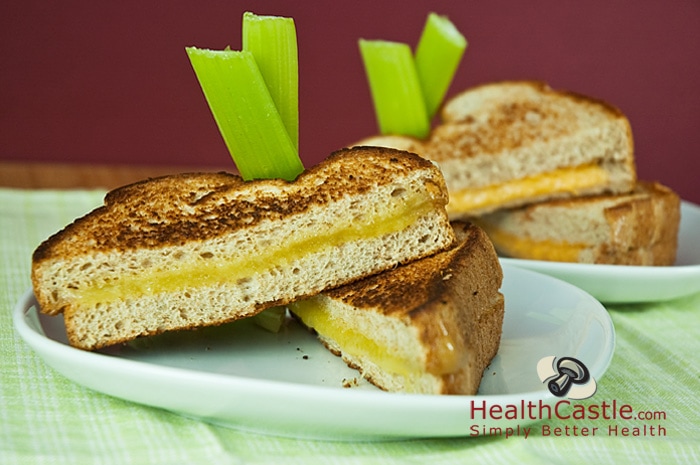 The grilled cheese sandwich may be America's all-time favorite comfort food. For most of us, grilled cheese brings back fond childhood memories. So let's stop making it with chemical-laden processed cheese, and start adding some wholesome goodness to this kid-friendly staple.
Kraft Cheese Slices
Organic Natural Cheddar Cheese
Check out the following table for the comparison between processed cheese and natural cheese:
Kraft
Cheese Slices

Organic Natural
Cheddar Cheese

Serving Size:

1 slice (21 g)
1 slice (21 g)

Calories:

60 kcal
84 kcal

Protein:

3 g
5.6 g

Fat:

4.0 g
7 g

Trans Fat:

0.1 g
0.2 g

Carbohydrate:

2 g
0 g

Sodium:

350 mg
133 mg

Calcium:

8%
14%

Preparation time:

Prep : 0 mins
Prep: 2 mins (cutting from the cheese block)

Price per serving:

$0.20
$0.57

Ingredients:

Modified milk ingredients, cheese (milk, modified milk ingredients, salt, bacterial culture, microbial enzymes, calcium chloride, color, lipase), water, sodium citrate, salt, sodium phosphates, maltodextrin, carrageenan, cellulose gum, lactic acid, citric acid, color, sorbic acid, may contain: sodium alginate, ground mustard, spice and corn starch.
Organic milk, bacterial cultures, salt, enzymes.
How Did the Two Stack Up?
The amount of chemicals and preservatives in processed cheese is shocking. It's generally acceptable to have some seasonings in cheese. But if you notice colorings and chemical-sounding ingredients like sodium alginate, you should question what exactly you are eating. Natural cheese also contains more protein and calcium, and a lot less sodium.
We purchased an organic cheese for this testing, so the price is significantly higher than the Kraft cheese slices. But you don't always need to go organic to find nature – brands like Cabot also carry natural cheeses with simple ingredient lists and no added colorings.
The Bottom Line
Don't spoil your all-time favorites with chemicals. Try natural cheese – it doesn't really take that much longer to cut it up. And it actually tastes better!
Our Homemade Recipe
Ingredients:
2 slices whole wheat bread
Sliced natural cheese (enough to cover your bread)
Steps:
Heat vegetable oil or butter in your pan. Put cheese between 2 pieces of bread. Grill one side until golden. Flip to the other side. Continue until cheese melts.
Gloria Tsang is the author of 5 books and the founder of HealthCastle.com, the largest online nutrition network run by registered dietitians. Her work has appeared in major national publications, and she is a regularly featured nutrition expert for media outlets across the country. The Huffington Post named her one of its Top 20 Nutrition Experts on Twitter. Gloria's articles have appeared on various media such as Reuters, NBC & ABC affiliates, The Chicago Sun-Times, Reader's Digest Canada, iVillage and USA Today.