A Healthy Downton Abbey Menu for Your Finale Viewing Party

This Sunday marks the season finale of Downton Abbey. If you're planning a viewing party for the final night you'll spend with the Crawleys this season, why not serve an era-appropriate menu based on some of the foods you've seen prepared by Daisy and Mrs. Patmore?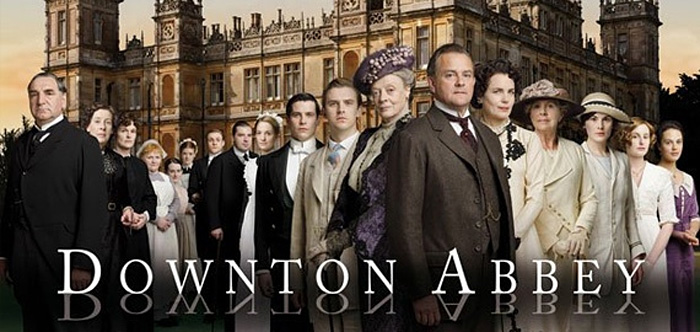 Pamela Foster, a Toronto-based culinary historian, has an entire website and corresponding cookbook devoted to recipes from the Edwardian era, including dishes we've seen the Crawleys eat. But she takes a decidedly modern approach, looking for ways to lighten things up and create more healthful dishes. For example, it's possible Lady Grantham could have nibbled on a brownie, but it almost certainly would not have been a gluten-free black bean version!
Here are a couple of Pamela's suggested Downton dishes (for recipes, scroll to the bottom of each linked post). Take your pick based on whether your favorite characters dine upstairs or downstairs. Or, if you'd rather serve afternoon tea than a full dinner, check out the menu for a healthy British tea party we prepared for the wedding of William and Kate.
Downstairs Supper: Simple Fare to Get the Job Done
Upstairs Supper: Dishes to Impress
Green pea timbales: These little vegetable custards with peas and mint can be lightened up by following Pamela's suggestion to use non-fat evaporated milk instead of cream.
Asparagus salad: Like the beet salad in the downstairs menu, this one includes cooked vegetables. It's made first-class with a Champagne-saffron vinaigrette.
Poached salmon: The light poached fish means you can indulge in a little Mousseline sauce, but use non-fat yogurt instead of whipping cream.
The Bottom Line
Food is an important part of social occasions today, just as it was in the Edwardian era. If you're hosting a Downton finale party, you can use these recipes to get your guests in the mood for the evening's show.

Alumni: University of Victoria – Christina Newberry is a writer and editor whose work has appeared in national and local magazines and newspapers. With a Bachelor's degree in English and Anthropology from the University of Victoria and a Journalism Certificate from Langara College, Christina brings keen curiosity and the love of a good story to her work with HealthCastle.com.
Christina is a passionate traveler and urban gardener with an interest in vegetarian eating and making good, tasty food from scratch. Sharing lessons learned from her own experiences, Christina writes about lifestyle topics for HealthCastle, with a focus on eating well at home and on the road.