Written By: Christina Newberry
Last Updated on:
Back in the good old days of air travel, when most flights of more than a couple of hours included a meal, it was easy for vegetarians to find food in-flight. All you had to do was request a vegetarian meal when you booked your ticket, and not only were you assured a vegetarian meal on the plane – you actually got your meal delivered to your seat before they started wheeling the cart down the aisle to dish out the standard-issue fare.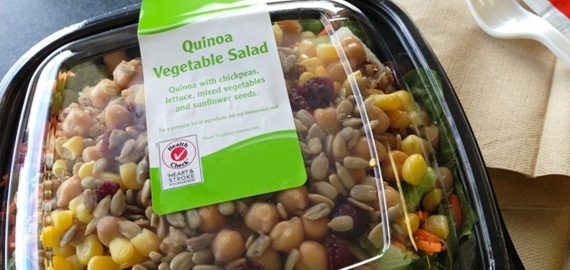 This still occurs, of course, on some long-haul flights. But many airlines now consider food an extra that has to be purchased – and in these cases vegetarian food can be surprisingly scarce. I have yet to see a vegetarian sandwich offering, even on flights that offer three or more sandwich choices. Some airlines offer cheese or fruit plates or snack packs that include hummus. But on my last (six-hour) flight, the hummus and fruit and cheese plates quickly sold out, leaving instant oatmeal, chips, and candy as the only vegetarian options. After that oatmeal dinner, I resolved to start packing meals for all flights. So, what can you take that's easy to pack, easy to eat in your cramped airline seat with little or no cutlery, and sure to make it through the security screening?
Vegetarian Airline Meal Prep: The Don'ts
Liquids (Including Anything "Spreadable or Pourable")
You probably know you can't take liquids over 3.4 oz (100 mL) in your carry-on bag, so you weren't likely planning to pack a thermos of soup. But you may not have realized that the liquids and gels prohibition extends to anything that can be spread or poured. That means no containers of yogurt, hummus, peanut butter, dip, jelly or jam, soft cheese, or any other spreadable or pourable food.
If you really want to take a small quantity of one of these foods, you can pack it in a container smaller than 3.4 oz, as long as it fits with your other small liquid containers in a 1-quart clear zip-top bag. Or, you can use items like hummus or peanut butter to make a sandwich ahead of time: A container of hummus and veggies will get confiscated, but a sandwich made with a hummus and veggies is okay.
Of course, no drinks over 3.4 oz will make it through security.
Anything Requiring a Knife
Knives, of course, are not going to make it through the security checkpoint. A disposable plastic knife is okay, but since you can't pack anything spreadable, it's not likely to be all that useful! Your best bet is to do any prep work that requires a knife before you leave home.
Anything Messy
Since you won't be packing liquids, you don't have to worry about spills, but you might want to think about crumbs. Crusty breads, for example, can be hard to wrangle within the confines of your airline seat and table – and you don't want your crumbs to fly into your neighbor's lap (or your own). It may also be tricky to get up and wash your hands before or after your meal (if the seatbelt sign is on or the meal-service cart is in the aisle), so avoid anything sticky, and bring a wet-wipe or two to clean up before and after you eat.
Super-Smelly Foods
If you've ever been on a plane when someone pulled out a tuna sandwich, you'll understand that it's simple courtesy to leave smelly foods at home. You might think that stinky cheese is the perfect way to start off your trip, but you could leave your neighbors gagging. Play nice and leave the smelly foods at home.
Vegetarian Airline Meal Prep: Two Go-To Options
The Simplest Option: A Sandwich
A simple sandwich is the easiest option, of course, and it offers infinite varieties, so you can pack something every member of your family will love. For longer flights in particular, make sure you include some protein (peanut butter, hummus, cheese) to help keep you full longer – you don't want to start feeling hungry with an hour or two left in your flight.
A Little More Work: A Protein-Rich Salad
A salad made with whole grains, tofu, or beans will fill you up and give you a range of flavors to munch on. Keep in mind that you need to mix dressings in to bean or grain salads before you head to the airport (and allow the dressing to absorb), or bring a container of 3.4 oz or less for dressings you want to apply at the last minute to salads with greens. Here are some easy recipes to get you started:
Wheat Berry Blueberry Lemon Salad
Rainbow Edamame Salad
Springtime Barley Salad
The Bottom Line
Some common sense and a little planning should help you pack a security-approved vegetarian meal to get you through your next flight. If you don't get around to packing a meal in advance, throw a bag of almonds or other nuts in your carry-on to give you a protein boost mid-flight, and check out the food items available for purchase at the airport after you've gone through security – you'll often find more vegetarian options near the gate than you will on the flight.

Christina Newberry is a writer and editor whose work has appeared in national and local magazines and newspapers. With a Bachelor's degree in English and Anthropology from the University of Victoria and a Journalism Certificate from Langara College, Christina brings keen curiosity and the love of a good story to her work with HealthCastle.com.
Christina is a passionate traveler and urban gardener with an interest in vegetarian eating and making good, tasty food from scratch. Sharing lessons learned from her own experiences, Christina writes about lifestyle topics for HealthCastle, with a focus on eating well at home and on the road.