Easy Slow-Cooker Vegetarian Chili with Bulgur

The winter months are a great time to take advantage of that crock pot you've got tucked away in the back of your kitchen cupboard. What could be better than coming home after work to a hot, delicious meal that's cooked while you were out? The trouble is that many slow-cooker recipes are heavy on the meat, since crock pots do such a great job of tenderizing tough cuts. If you're vegetarian, or you just like to go meatless s few nights a week, try this easy recipe for vegetarian slow-cooker chili with a surprising ingredient: bulgur, a fiber-packed whole grain.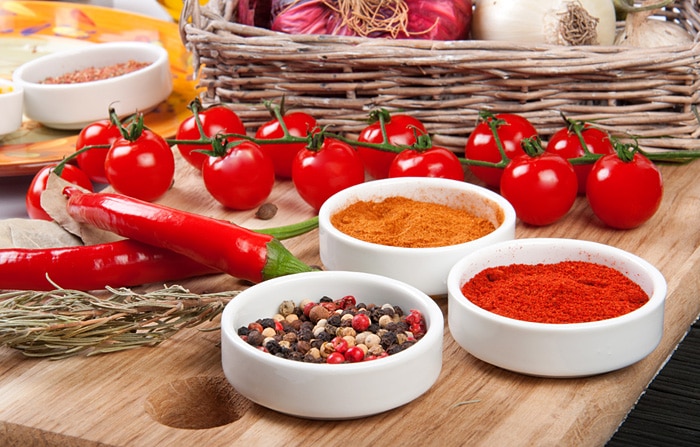 Easy Slow-Cooker Vegetarian Chili Recipe
The best part about slow-cooker recipes is that you can make them the night before, then just set the crock pot to low when you leave for work in the morning. When you come home, your whole house will smell delicious, and your hot, tasty dinner will be ready to eat.
Easy Slow-Cooker Vegetarian Chili Recipe
Ingredients
½

cup

bulgur, dry

3

cloves

garlic, minced or pressed

2

celery stalks, large, sliced

1

medium onion, diced

1

red or yellow bell pepper, diced

1

tsp

hot sauce (adjust based on how spicy you like your chili)

1

can

diced tomatoes with juice (28 oz)

1

can

low-sodium kidney beans undrained (19 oz)

1

tbsp

or 1.5 cubes instant vegetable bouillon

2

tbsp

chili powder

(adjust to suit your taste)

1

tsp

cumin

(adjust to suit your taste)

1

tsp

oregano

(adjust to suit your taste)

¼

tsp

freshly ground black pepper

(adjust to suit your taste)
Instructions
Place bulgur, garlic, chopped vegetables, hot sauce, tomatoes with juice, and beans with liquid into the crock pot and mix well.

Sprinkle spices and bouillon on top of the mixture and stir in well.

Cover and cook on low for 8-10 hours.

Salt to season before serving.
Special Tips for this Recipe
If you're not vegetarian, you can try using beef or chicken bouillon granules instead of the vegetable variety.
You can cook this recipe in your crock pot on high for 4 hours or so.
If you don't have a slow cooker, you can make this recipe on your stove. Just mix the ingredients as instructed in a large pot, cover, and simmer on medium heat until it looks like chili! It will take a couple of hours.
Feel free to experiment with the vegetables you use. Try adding a sliced carrot, some sliced button mushrooms, or frozen corn.
The Bottom Line
A hearty, warm bowl of vegetarian chili is just the thing to lift your spirits after a hard winter day at work. For a full meal, serve this chili with a simple green salad or some homemade bread.

Alumni: University of Victoria – Christina Newberry is a writer and editor whose work has appeared in national and local magazines and newspapers. With a Bachelor's degree in English and Anthropology from the University of Victoria and a Journalism Certificate from Langara College, Christina brings keen curiosity and the love of a good story to her work with HealthCastle.com.
Christina is a passionate traveler and urban gardener with an interest in vegetarian eating and making good, tasty food from scratch. Sharing lessons learned from her own experiences, Christina writes about lifestyle topics for HealthCastle, with a focus on eating well at home and on the road.