No More Muffin Mix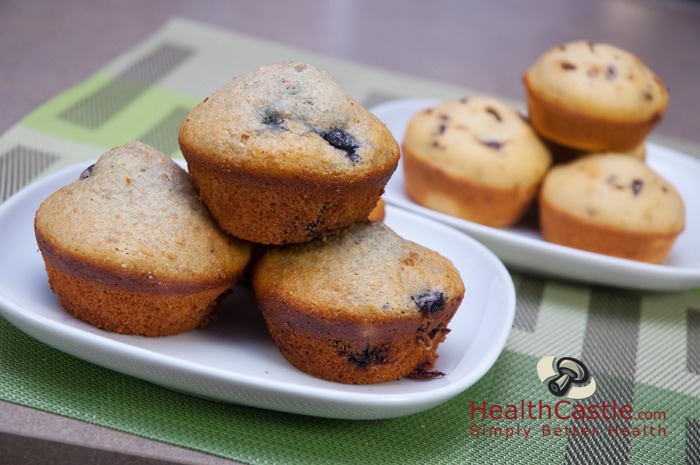 You've seen them: bags of muffin mixes lining the grocery shelf, with pretty muffin pictures proudly displayed on the front. Often, the end product that comes out of the oven looks nothing like the picture. Worse, the muffin mix often comes with long-named, mysterious-sounding ingredients such as "blueberry flavored nuggets" or "carboxymethyl cellulose."
If you are new to baking, you should know that muffins fall into a category that is often called "quickbreads," and they are one of the easiest baked goods you can prepare from scratch at home. Once baked, they also freeze well, which means you can bring them to school or work easily (or take them out from the freezer and let them defrost overnight for an instant breakfast the next day).
Quaker Blueberry Buttermilk Muffins
Homemade Healthy Blueberry Muffins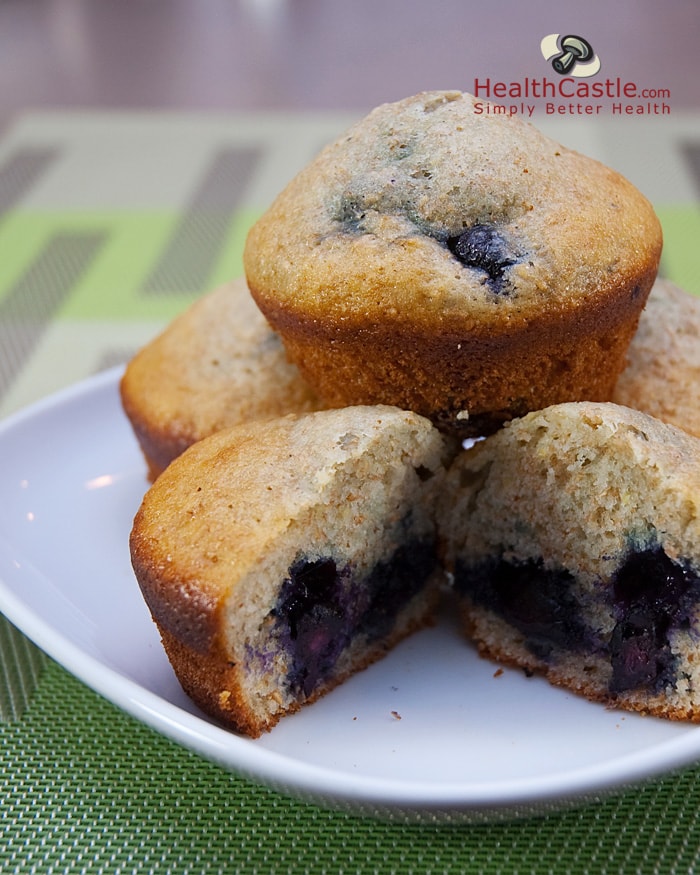 We made blueberry muffins from scratch and compared them to one of the most common store-bought pre-packaged muffin mixes. Here's how we did.
Quaker Blueberry
Buttermilk Muffin Mix

(Muffin mix plus 2 eggs)

Homemade Healthy
Blueberry Muffins

(made with whole wheat flour, frozen blueberries and low-fat yogurt)

Serving Size:

1 muffin (70g)
1 muffin (65g)

Calories:

305 kcal
163 kcal

Protein:

4.4 g
3.8 g

Fat:

10.9 g
5.9 g

Carbohydrate:

47.8 g
25 g

Fiber:

1.3 g
1.9 g

Trans Fat:

Not disclosed but contains hydrogenated oil and shortening
0 g

Sodium:

n/a
124 mg

Preparation time:

34 minutes (15 minutes to preheat oven and prepare mix + 19 minutes baking)
35 minutes (20 minutes measure ingredients and preheat oven + 15 minutes baking)

Price per serving:

$ 0.31 per muffin
$ 0.37 per muffin
How Did the Two Stack Up?
Our tasters gave the homemade whole wheat muffins a clear thumbs-up over the boxed version. The whole wheat muffins were fluffier, softer, and heartier, despite coming in at approximately half the calories of the boxed muffins per serving. The boxed version was overly sweet, cakey, and a little greasy (most likely due to the hydrogenated oil and shortening added to the mix, which means it also contains an undisclosed amount of trans fat). The boxed muffin mix only yielded 8 muffins instead of 12. For a few cents more per muffin, you can get the tastier homemade version with more fiber and real blueberries.
The Bottom Line
If you often include store-bought muffins in your daily diet, it is time to take a look at what you're actually putting in your body and give the "quick from scratch" version a try. Most commercial bakeries produce muffins that are equal in size to at least 2 or 3 homemade muffins, plus they're packed with sugar and fat and not much else; that's a whole lot of calories to put into your body for something that is supposed to be a snack. If you're a "muffin-aholic," use home-made muffins as an opportunity to bump up your intake of fruits and vegetables, especially if you have too much produce sitting in the fridge. Any of the following would work great in a muffin batter: chopped dried fruits (dates, raisins, apricots, mango), banana (mashed or cut up), chopped apples (leave unpeeled for extra fiber), any berries, grated carrots or zucchini, mashed sweet potatoes, yams, pumpkin, or butternut squash. Nuts are also a great addition. And with pretty much any muffin recipe, it doesn't hurt to use 100% whole wheat flour in place of white flour.
Our Blueberry Muffin Recipe:
The original recipe is courtesy of the Old Farmer's Almanac Everyday Cookbook "Wild Blueberry Sour Cream Muffins". We used whole wheat flour instead of white, canola oil instead of butter, and plain yogurt instead of sour cream. Instructions have been shortened to fit the space.
Ingredients:
1/4 cup canola oil
3/4 cup sugar
2 large eggs
1 1/3 cups whole wheat flour
1/2 tsp baking soda
1/4 tsp salt
3/4 cup plain low-fat yogurt
1/2 tsp vanilla extract
1 cup blueberries (fresh or frozen)
Steps:
Pre-heat oven to 425F. While you wait, grease a 12-cup muffin pan (or line with paper baking cups). In a large bowl, whisk the oil and sugar until combined. Beat in the eggs one at a time. Whisk in the vanilla. In a separate bowl, mix the dry ingredients together (flour, baking soda, and salt). Add the dry mixture to the egg mixture in two batches, alternating with the plain yogurt. Add in the blueberries and fold gently.
Fill the muffin cups half full and bake for 12 to 15 minutes. Remove from pan and let cool. Yield: 12 muffins.

Alumni: University of California, Berkeley – Sofia believes in bringing back fun and pleasure into everyday eating. She loves cooking, and is constantly experimenting with ingredients, creating recipes and trying them out on family and friends. Her latest interest lies in finding realistic and practical ways of environmentally-friendly food/eating habits.