What You Should Know About Milk When Shopping in the United States

Vancouver is a short drive from the U.S. border, which means many Vancouverites like to head to Blaine, Bellingham, or Point Roberts to load up on items that are cheaper south of the border. One item many people tend to stock up on during those cross-border shopping trips is milk. But if you're going to buy your milk in the United States, there are a few things you should know.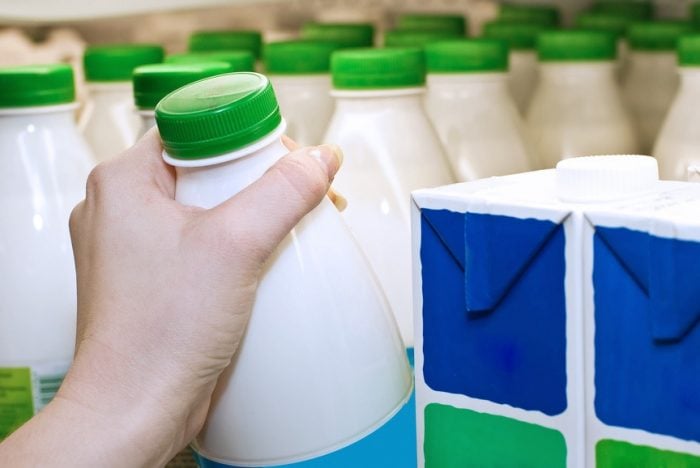 Growth Hormone and Antibiotics: Allowed in U.S. Cows, Not in Canada
You may have read or heard about growth hormone and antibiotics being used in dairy farming, and about the concerns many people have about these practices. But that's because much of the media we're exposed to comes from the United States. In Canada, it is not legal to use bovine growth hormone in dairy cows, and all milk must be antibiotic-free.
So, what exactly is growth hormone? And why should we be concerned about its use and the use of antibiotics in dairy cows?
Recombinant bovine growth hormone (rBGH), the growth hormone used in U.S. dairy cows, helps to increase milk production. It has been approved in the United States since 1993. It is not allowed in Canada or in the European Union.
rBGH and Antibiotics
All animals can get sick, of course, whether or not they are being given rBGH, and sickness may require treatment with antibiotics. The concern is that cows given rBGH to increase their milk production are more prone to udder infections (mastitis) than other cows. To treat these infections, the cows are given more antibiotics than other cows. It's not clear whether this additional use of antibiotics could lead to antibiotic-resistant bacteria that could impact humans.
In both Canada and the United States, all milk sold must be antibiotic-free, so the issue is more about potential antibiotic-resistance than actually consuming antibiotics through milk. In Canada, a farmer who provides a dairy with milk containing antibiotics will have to pay for all expenses related to the milk that is thrown out. That means farmers take their commitment to providing antibiotic-free milk seriously.
Other Concerns about Growth Hormone
It is not clear yet exactly how the use of rBGH in cows impacts human health. The rBGH itself is not found in milk, but another hormone is found in greater amounts in the milk of cows treated with rBGH. This other hormone, IGF-1, has been linked to certain forms of cancer. Although there is no solid evidence that consuming milk from rBGH-treated cows increases cancer risk in humans, some people don't like the idea of consuming milk with increased levels of IGF-1.
Buy Canadian Milk, or Buy Organic In the States
Even if the use of growth hormones has not been proven to impact human health, it is clear that it does impact the health of cows, making them more prone to infection that requires treatment with antibiotics. If you don't want to buy milk that comes from cows treated with rBGH and antibiotics, you should not buy regular milk in the United States.
When you buy milk in Canada, you can be sure it does not contain rBGH or antibiotics. In the U.S., you need to buy organic milk to meet these standards.
So, yes, milk is much cheaper in the United States. But I would certainly not choose to buy regular milk south of the border.
Tell us: What do you think about this issue? Do you buy milk in the United States? Did you know that it is different from the milk sold in Canada? Will this information impact your buying decisions?

Alumni: University of British Columbia – Gloria Tsang is the author of 6 books and the founder of HealthCastle.com, the largest online nutrition network run by registered dietitians. Her work has appeared in major national publications, and she is a regularly featured nutrition expert for media outlets across the country. The Huffington Post named her one of its Top 20 Nutrition Experts on Twitter. Gloria's articles have appeared on various media such as Reuters, NBC & ABC affiliates, The Chicago Sun-Times, Reader's Digest Canada, iVillage and USA Today.