Top 20 Super Foods You Should Eat More Of

Everyone loves to know the "latest" super food list! I've come across some really fancy exotic recommendations; the problem is, I can't find them in my grocery stores! Really, super foods don't need to be exotic! They just need to pack nutrition punch! In my book, Go UnDiet, I've listed Top 60 Super Foods based on my recommended nutrition criteria.
Top 20 Super Foods You Should Eat More Of
Of the 60, I would pick the following 20 foods as the top: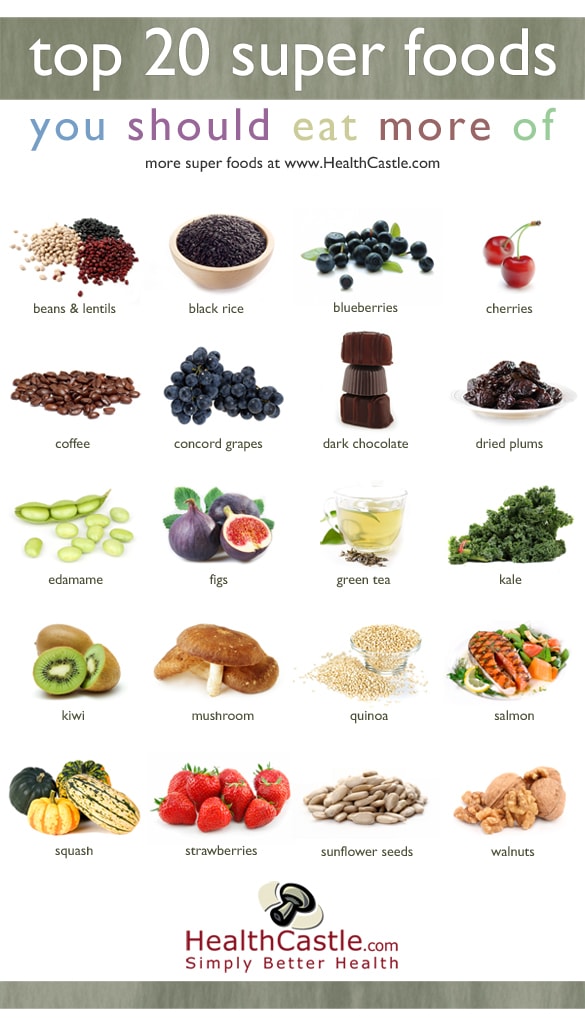 How to Eat More Superfoods
Whether you are vegetarian or not, it's easy to add superfoods to your diet. From fish, fruits, green leafy vegetables, nuts and seeds to the Golden Beetroot, there is definitely a wide variety to superfoods to boost your health. No single food can offer all nutrition so think variety! Use the list below and add easily more superfoods into your family's diet.
Top 20 Super Foods List
Beans & Lentils
Black Rice
Cherries
Coffee
Concord Grapes
Dark Chocolate/Cacao
Edamame
Figs
Kale
Kiwi
Mushrooms
Quinoa
Salmon
Strawberries
Sunflower Seeds

Alumni: University of British Columbia – Gloria Tsang is the author of 6 books and the founder of HealthCastle.com, the largest online nutrition network run by registered dietitians. Her work has appeared in major national publications, and she is a regularly featured nutrition expert for media outlets across the country. The Huffington Post named her one of its Top 20 Nutrition Experts on Twitter. Gloria's articles have appeared on various media such as Reuters, NBC & ABC affiliates, The Chicago Sun-Times, Reader's Digest Canada, iVillage and USA Today.